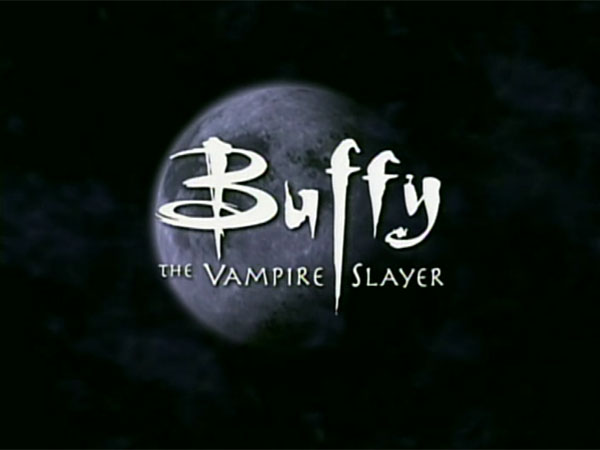 Moderator: Chief Couch Potato Kylie
THE SPECS:
Who: "Buffy the Vampire Slayer," a cult supernatural, fantasy, action, and horror drama that aired on the Warner Bros. network, or "The WB," from 1997 to 2001 and on the United Paramount Network, or "UPN," from 2001-2003.
What: "Buffy the Vampire Slayer" follows Buffy Summers (Sarah Michelle Gellar), the latest in a line of young women known as "Vampire Slayers" or simply "Slayers," called or chosen by fate to battle against vampires, demons, and other forces of darkness.
SYNOPSIS
Buffy's mystical calling endows her with powers that dramatically enhance physical strength, endurance, agility, healing, intuition, and that provide a limited degree of clairvoyance, usually in the form of prophetic dreams. She is known as a reluctant hero who wants to live a normal life; however, she learns to embrace her destiny as the vampire Slayer.  Buffy receives guidance from her Watcher, Rupert Giles (Anthony Stewart Head), a member of the Watchers' Council, whose job is to train and guide the Slayers. Giles researches the supernatural creatures that Buffy must face, offers insights into their origins and advice on how to defeat them, and helps her stay in fighting form. Buffy is also helped by friends she meets at Sunnydale High School: Willow Rosenberg (Alyson Hannigan) and Xander Harris (Nicholas Brendon).
The cast of characters grows over the course of the series. A vampire with a soul, Angel (David Boreanaz), is Buffy's love interest throughout the first three seasons. At Sunnydale High, Buffy meets several other students besides Willow and Xander willing to join her fight for good, an informal group eventually tagged the "Scooby Gang" or "Scoobies." Cordelia Chase (Charisma Carpenter), the archetypal shallow cheerleader, reluctantly becomes involved. Daniel "Oz" Osbourne (Seth Green) – a fellow student, rock guitarist and werewolf – joins the group through his relationship with Willow. Anya (Emma Caulfield), a former vengeance demon (Anyanka) who specialized in avenging scorned women, becomes Xander's lover after losing her powers and joins the group in season four. Spike (James Marsters), a vampire, is an old companion of Angelus (Angel) and one of Buffy's major enemies in early seasons, although they later become allies and lovers.  In fact, Buffy features dozens of recurring characters, both major and minor, and additional regular characters introduced in later seasons.
When: The show aired on the WB from 1997-2001 and on UPN from 2001-2003.
Where: The show is set primarily in fictional Sunnydale, California, home of one of the series' fictional entrances to hell, otherwise known as "The Hellmouth."
Why: Listen to the first episode of this podcast series for the panelists' individual stories on how they found Buffy the Vampire Slayer.  They are all personal and occasionally touching.
How – as in How Much Do We Love this Show?!
In honor of the 20th anniversary of the premiere of one of your Chief CP's all-time favorite television shows, and since I know a few people in my life who love Buffy as much or (possibly) more than I do, I decided to invite some true Buffy-Verse scholars, in what has, again, become something of a family event, to participate in a five-part podcast series, during which we will take a critical look back at another couple of cult TV shows that fuel our respective imaginations and tug at our TV-loving hearts. In this five-part series, our panel – featuring CPU! regulars and semi-regulars Nick, Kyle, Sarah, and Kallie – look back at Buffy and its spin-off Angel, reminiscing about two shows that have withstood the test of time as personal favorites for several of us and as two of the most nationally and internationally acclaimed television series of all time.
We have already recorded three episodes in this series, Looking Back at Buffy Seasons One, Two, and Three (Episode One), Four and Five (Episode Two), and Angel, Seasons One and Two (Episode Three).  You can listen to those episodes here or via our audio channels on iTunes, Stitcher Radio, and Google Play:
The Buffy-Verse Series, Episode One, "Buffy the Vampire Slayer," Seasons 1-3
The Buffy-Verse Series, Episode Two, "Buffy the Vampire Slayer," Seasons 4-5
The Buffy-Verse Series, Episode Three, "Angel," Seasons 1-2
In this fourth episode of CPU!'s "Buffy-Verse" series, our panel discusses Seasons Six and Seven of Buffy, covering the series' final two years and the show's somewhat divisive denouement, after the UPN network began airing the series following possible cancellation by the WB. We discuss our favorite and least favorite episodes within each season and our general impressions of the success of these two seasons, which aired on Tuesday nights on the UPN network.
In addition, with this series, CPU! is introducing yet another brand new feature, which sort of combines some old features into one handily titled, efficiently truncated format. You may have noticed that we tend to favor some "best of" lists around here.  Well, in this new feature, called "Best Of!," we are going to handily provide, right here, right now for Buffy but otherwise within the content entry for each podcast episode, the list of all of the "best of" acclaims a show receives.  In addition, we will be compiling those lists on separate bonus pages of our website (accessible by the menu at the top left of the header).  We're not ready for the pages, as in they are under construction, but when it comes to Buffy the Vampire Slayer's list of various acclaims accrued over the years, you'll come to understand why this feature was introduced.
To wit, herein be the list of Buffy the Vampire Slayer's Best Of!
#41 on TV Guide's list of 50 Greatest TV Shows of All Time
#2 on Empire

'

s "50 Greatest TV Shows of All Time" in 2008 and #22 in 2016
#27 on The Hollywood Reporter

'

s "Hollywood's 100 Favorite TV Shows"
Time magazine's "100 Best TV Shows of All-Time"
#38 on TV Guide's list of the "60 Best Series of All Time"
#38 on Rolling Stone's list of 100 Greatest TV Shows of All Time
In addition, Buffy the Vampire Slayer is one of the most celebrated cult TV shows and TV fandoms, as the show ranks at #2 on Entertainment Weekly's 2009 and 2014 Top Cult TV lists and at #3 on TV Guide's Top Cult TV list.  Plus, Buffy ranked #49 on TV Guide's Best Written TV list in 2013, as it is also considered one of the best written (scripted) television series of all time.
Follow us on Facebook, Twitter (@cpupodcast), Instagram (@couchpotatoesunite), Pinterest (@cpupodcast), or email us at couchpotatoesunitepodcast@gmail.com – or subscribe to this blog, the YouTube channel, our iTunes channel, our Stitcher Radio channel , and/or find us on Google Play to keep track of brand new episodes.  In the meantime, let us know what you think!  Comment or review us in any of the above forums – we'd love your feedback!
Remember, new episodes and blog posts are published weekly!  Next Wednesday, our DCTU panel returns again to the proverbial Water Cooler to discuss Season 3 of The Flash, as our Arrowverse revisits continue.  Stay tuned!
Buffy the Vampire Slayer – if you somehow haven't already watched it – is recommended to anyone who loves nerdy, cult science fiction and fantasy (and/or horror) series in the vein of Star Trek, The X-Files, and similar ilk and to any fan of Joss Whedon who hasn't somehow discovered his first major and most critically and most popularly recognized work of screen fiction (beyond the vastly different film, for which he provided creative input and an early script later overruled by its producers).  As we discuss in this podcast series, this series broke ground for so many other series to come, including other popular shows for which writers and creators learned their trade working on this series originally, including shows like Once Upon a Time and even issue-based comedies, like the uneven but musical Glee. This show has a bit of everything, and, if you love solid, quality television – excellent television, in fact – and you have somehow missed this series, you should make time for Buffy. You will not be disappointed in the overall journey and entertainment value that this well written, well performed series provides.
The entire Buffy series is available to stream at only Hulu, currently. Watch it: you won't regret it!