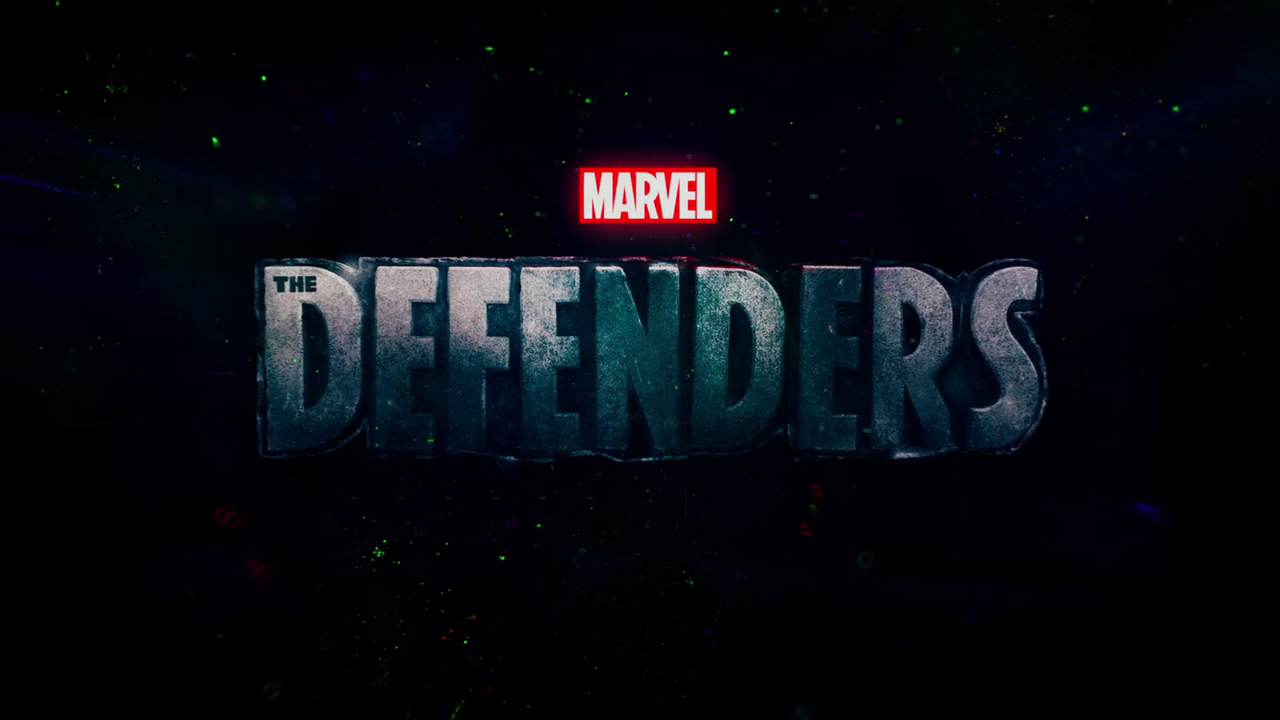 Moderated by: Chief Couch Potato Kylie
THE SPECS:
Who: "Marvel's The Defenders" is a web television series based upon the Marvel Comics characters Daredevil, Jessica Jones, Luke Cage, and Iron Fist, who form the eponymous superhero team.  It is also a Netflix original series, always available on Netflix.
What:  "Marvel's The Defenders," created by Douglas Petrie and Marco Ramirez, is set in the Marvel Cinematic Universe (MCU), sharing continuity with the films of the franchise, and is the culmination of a series of interconnected shows from Marvel and Netflix. The limited series stars Charlie Cox as Matt Murdock aka Daredevil, Krysten Ritter as Jessica Jones, Mike Colter as Luke Cage, and Finn Jones as Danny Rand aka Iron Fist, all reprising their roles from their individual series. The miniseries also stars Eka Darville, Elden Henson, Jessica Henwick, Simone Missick, Ramón Rodríguez, Rachael Taylor, Deborah Ann Woll, Élodie Yung, Rosario Dawson, Scott Glenn, and Sigourney Weaver. 
When: The first season of the series was released in its entirety to the Netflix streaming library on August 18, 2017.
Where: The action is set primarily in the New York City, New York, borough of Manhattan, as depicted in the Marvel Cinematic Universe, though there are glimpses of other boroughs, including Hell's Kitchen and Harlem.
Why: To find out why individual podcast panelists started watching this show, listen to the podcast episode via the link below – though I will say that all of the panelists are fans of the Netflix original library and/or superhero/comic book based shows in their own right and have found themselves eagerly anticipating new entries in Netflix's "Defenders" series of releases, particularly the cross-over event for which our panel is named!  As a result, they're committed to a CPU! series about same!
How – as in How Was It?
The pilot/premiere rating scale:
***** – I HAVE TO WATCH EVERYTHING. HOLY SMOKES!
**** – Well, it certainly seems intriguing. I'm going to keep watching, but I see possible pitfalls in the premise.
*** – I will give it six episodes and see what happens. There are things I like, and things I don't. We'll see which "things" are allowed to flourish.
** – I will give it three episodes. Chances are, I'm mainly bored, but there is some intrigue or fascination that could hold it together. No matter how unlikely.
* – Pass on this one, guys. It's a snoozer/not funny/not interesting/not my cup of tea… there are too many options to waste time on this one.
Marvel's The Defenders = 4.3, by average of the podcast panel.
SYNOPSIS
Set a few months after the events of the second season of Daredevil, and a month after the events of the first season of Iron Fist, the vigilantes Daredevil, Jessica Jones, Luke Cage, and Iron Fist team up in New York City to fight a common enemy: the Hand.
How – as in How Was It? – THOUGHTS
As long-time listeners should know by now, CPU! is chock full of panelists with a proclivity for comic book and superhero TV shows and films, including your Chief CP. Our Marvel's Defenders Series was born of this proclivity, as we have already covered the two available seasons of Daredevil, the one available season of Jessica Jones, the one available season of Luke Cage, and the one available season of Iron Fist.  Listen to the links below:
Marvel's Defenders Series, Episode One, "Daredevil," Season 1
Marvel's Defenders Series, Episode Two, "Jessica Jones," Season 1
Marvel's Defenders Series, Episode Three, "Daredevil," Season 2
Marvel's Defenders Series, Episode Four, "Luke Cage," Season 1
Marvel's Defenders Series, Episode Five, "Iron Fist," Season 1
As such, it was only right that we cover the next series in this universe, now the fifth in Netflix's series of Marvel-centered shows and the culmination of creating the shows to begin with: "The Defenders" miniseries, featuring heroes Daredevil, Jessica Jones, Luke Cage, and Iron Fist joining together to form a special force of the ilk of the Avengers or of the Justice League in the DC Universe. Thus, we bring you our first ever Defenders podcast episode – and the sixth episode of our Marvel's Defenders Series – featuring Defenders panelists Nick, Kristen, Hilary, Kyle, and Spencer.
Our panel is, for the most part, warm to the crossover, with some panelists liking this climactic effort more than some of the solo entries leading up to it.  Generally, the panelists loved seeing the four Defenders together, taking down the Hand, even though some thought the series somewhat slow; too short, at eight episodes rather than thirteen, compared to predecessor programs; and fuzzy in storytelling continuity when matched up to the solo Defender series.  Also, many of our panelists construed the depiction of The Hand, the nefarious ninja organization that previously haunted Daredevil and Iron Fist, to be weak overall when compared to charismatic villain performances in solo series, particularly those of Vincent D'Onofrio as Kingpin and David Tennant as Kilgrave.  To hear us hash out these opinions further, listen to our discussion via the embedded link below.
This podcast was recorded in December 2017, and there are, without question, MAJOR SPOILERS, as we cover major plot points throughout the first season of The Defenders.  Do you agree or disagree?  Listen at your own risk, and let us know what you think by commenting below!
Follow us on Facebook, Twitter (@cpupodcast), Instagram (@couchpotatoesunite), Pinterest (@cpupodcast), or email us at couchpotatoesunitepodcast@gmail.com – or subscribe to this blog, the YouTube channel, our iTunes channel, our Stitcher Radio channel , and/or find us on Google Play to keep track of brand new episodes.  In the meantime, let us know what you think!  Comment or review us in any of the above forums – we'd love your feedback!
Remember, new episodes and blog posts are published weekly!  Next Wednesday, at long last, our Vampire Diaries panel, slightly smaller, returns to the Water Cooler to begin the long advertised two-part goodbye series in which we pay homage to the long-running teen supernatural drama, which ended its eight season run in March 2017.  In the first episode/first part of our miniseries, we recap the second half of the final season.  Stay tuned!
RECOMMENDATION
The Defenders is recommended overall by our CPU! panel to fans of comic books, particularly from the Marvel universe; fans of the various Defenders series; and fans of the individual Defender characters.  The panel cautions that to truly appreciate what The Defenders offers as a program, it is best viewed after all solo Defender series/seasons released prior to the release of this miniseries have also been viewed.  The panel generally and universally agrees that The Defenders is well-performed and mostly well-written and directed but for some qualms from some panelists about pacing and continuity, particularly with reference to how the various show runners have treated The Hand as overarching villains for several of the solo and now the crossover series.  In any event, and despite the critiques described above, the panel universally had great fun watching this series and believes that anyone who considers themselves a fan of any or all of the individual Defenders would have fun watching it too.
THE FUTURE OF THE SHOW
The Defenders has not yet been renewed for a second season, though Netflix is no doubt preparing for subsequent solo series season releases as follows: Jessica Jones (Season 2) on March 8, 2018; Luke Cage (Season 2) in spring/summer 2018; Daredevil (Season 3) in summer/fall 2018; and Iron Fist (Season 2) in 2019. Netflix may be waiting to gauge reception to all of these new seasons as well as reviewing logistical considerations before jumping straight into a renewal commitment.  As always, CPU! will be following The Defenders throughout its series run as part of CPU!'s Marvel's Defenders Series, so we will definitely return to podcast about a season two, should one be commissioned, and will keep you informed of all Netflix/Marvel coverage.  In addition, the CPU! Marvel's Defenders panel will return very soon to review The Punisher, Season 1, which was released to Netflix on November 17, 2017.  Until then, stay tuned!